With more time this year, we had a relaxed visit to harbors new and old, sailing the Maine way. That is, going with the 5- to 10-knot winds, not trying to cover more distance than can be sailed on a given day. And we finished up with a wonderful, unplanned, overnight sail across Mass Bay.
Pulpit Harbor, Burnt Coat Harbor, York Island, Isle au Haut, Rockland, Seal Bay, Perry Creek.
Overview…
We followed our now standard pattern of staging to Duxbury, then shooting for Isles of Shoals. It's always a long day, but arriving at Gosport Harbor at sundown is always dramatic. Then the intermediate stops at Cliff Island to pick up Sally on Calypso and Dophin Marina and Harbor Island the next day. Then we're full up with fluids and really in Maine. From there on it's Penobscot Bay all the way. (And sometimes further.)
Could we cut down the "delivery" days with an overnighter? Or with more time, should we make it part of the cruise? Decisions and compromises.
Felt like we got in more sailing this year. At least never motored against the wind to make distance once in Maine.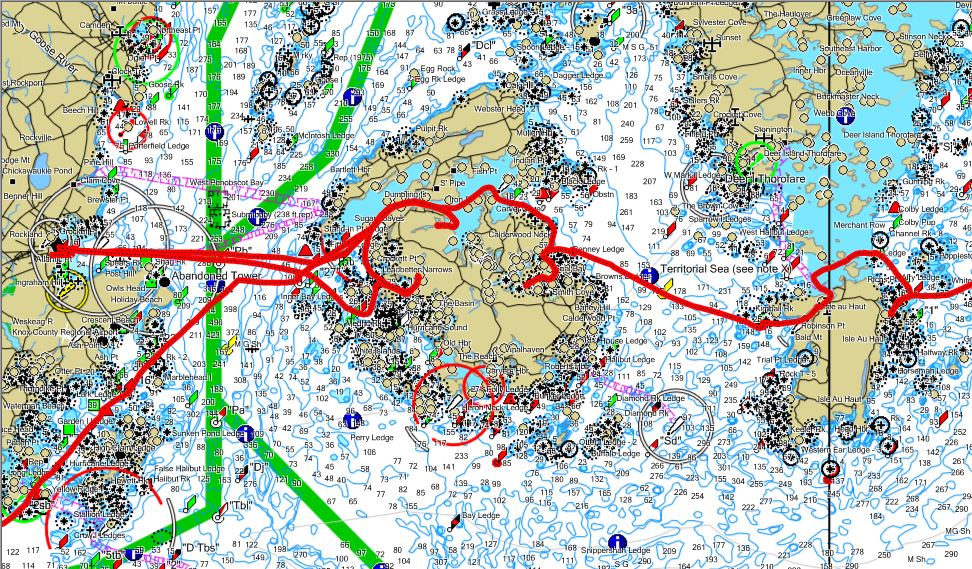 Some parts of our track in Pen Bay are missing.
Only new anchorage: York Harbor, Isle au Haut
Best new storm hole: Wood Island Harbor, Biddeford Pool
Best quote: "Let's sail all night to the canal"
Best new restaurant: Archers on the Pier, Rockland
Best new trails: to the Burnt Coat Harbor Light on Hockamock Head, Swan's Island
Best new item of clothing: Isle au Haut denim shirt
Best new boat part: VHF radio with cockpit mic and AIS
Mon, July 20: Clark's Island, Duxbury 28 nm
11:30 off mooring (an hour late) and head to the canal with Calypso
11:50 into the canal SW
2:00 out of canal NE (slow; end of current cycle)
the Kalmar Nyckel replica pinnace was entering as we exited.
a gentle SW; genoa out and ease along at 4 kts.
a brief sprinkle; beats a thunderstorm!
Hmmm… no Windex!
Hickory Wind led through the canal but took a wide turn to the north avoiding other vessels
Calypso gained until I took in the 135% sheet. Remained even until turn at MA Rocks and then DDW.
4:00 Maryann Rocks, turn to Bug light and, hello, wind?
4:30 glassy and on with the 'beke.
6:30 mooring at Clark's Island after a very foul current transit
Hickory Wind picks up mooring and Calypsao rafts with the usual odd wind/current combination
Cold chix in the cockpit.
Excellent LTE.
Tue Jul 21: Isles of Shoals 64nm
cool, calm, bright (okay, cloudy bright)
8:45 off mooring
boats just sit there after unrafting
9:30 Gurnet (good current!)
motor on north
set baud rate on CP and VHF in prep for AIs
11:00 very hazy; hot when sun comes out!
11:45 AIS displayed on HDS-7m from GX2200 with two wires!
2:00 call Gateway Endeavor, guarding the LNG mooring hawser, on VHF. thrilled that someone called them!
3:00 cloudy, cool – it's 93 in Onset
3:15 genoa out and doing 5 kts
3:30 get an MMSI number from BoatUs web site
an east wind clears the sky
5:00 out of Cape Ann narrows
5:45 light east, but doing 7 kts on genoa
8:00 Isles of Shoals!
first time I've cut the "4" buoy, hugging Star Island on the 17/27 contour
tall ship Lynx, an American privateer schooner is tied up at the pier
A lot fewer lobster pots!
Calypso picks up a mooring, HW rafts
steak, sprouts and challah
so-so 4G
Wed Jul 22: Cliff Island, Casco Bay 50 nm
bright (really!), warm, still
8:45 off
Hmm. main halyard wrapped around radar on the front of the mast
After futile flipping attempts, go over ideas not involving climbing the mast
Toss the line over the spreaders? Stand on the boom?
Turns out that the long boat hook will reach to the radar. QED.
10:30 all sails up, but no sailing.
12:00 wind poops out to the NE
1:30 try saling w/o 'beke
2:00 down to 3+ knots; 'beke on
program the ARS-5 for AGM batteries – works better!
2:30 try sailing again
3:00 sailing quite well; dozing off well, too.
4:00 pots! need some help watching
5:00 off Cape Eliz and gusty!
Crank reef into genoa
7:00 an empty Cliff mooring field (Jewell looked full up)
Calypso picks up and deploys dinghy. HW picks up and then rafts
cold chix, sprouts, hot boule
spotty 4G
very rolly as high tide comes over the ledges; sound of surf
Thu Jul 23: Harbor Island, Muscongus Bay 38nm
bright! Sun shines right through HW to the V-berth
calm and warm
mooring field still empty
Enter MMSI number into DSC
Light clouds cut the heat from the sun
10:15 off
11:00 Dolphin Marina for fuel $46.48 – 14.3), water and trash.
Motor yacht JAMBO tied up and blocking the fuel dock; not very welcoming
12:00 off again for the "fingers"
12:45 genoa out at the "1J" bell
1:15 main up and all sailing 6 kts!
2:00 add 'beke
3:30 Cuckolds
5:00 Pemaquid and up the bay, drop 'beke, wing on wing!
Ease right though the assorted devil's body parts
6+ on 10kt SW – gotta getta pole!
6:00 sails down for the well-potted approach to the anchorage
6:45 pink mooring ball w/ pot float pickup
Calypso rafts up
some 3G (EDGE on the way in)
as (almost) always, peaceful but for GNATS!
steak?
Fri Jul 24: Cabot cove, Pulpit Harbor, North Haven
bright and cool
Thunderstorms? Make it too Pulpit? Stop at High & Dix?
9:30 off to catch Muscle Ridge Channel current
go north of McGee and down through the tickle on its east side
11:00 Port Clyde
11:15 Mosquito
motor across with genoa
dark clouds but Wx radar says storms are down by Portsmouth and up by Bar Harbor
Thank lobster boat for music on VHF 68 with reply, "fucking retard."
12:15 Spruce Head and current
12:45 High & Dix going 6.8!
1:00 fisherman island passage and out
Very pleasant, too bad motoring! 1:15 try genoa, but no to be
1:30 Eh? Calypso caught up!
2:15 Thunderstorm to the west over Rockland – get moving!
3:00 mooring at the far (west) end of Cabot Cove, aka Minister Creek, Calypso then HW rafts up
Have had a number of times this trip where first boat misses the pickup and second grabs it
some thunder, brief shower
Basically, predictably, zip for cell
Dark clouds come by, then flat gray
Then thunder and lightning and gentle, steady, rain
6:30 rain over
steak, boule, sprouts and beans
Sat Jul 25: Pickering Island, Penobscot Bay
cool, gray… but dry?
long pants!
Run 'baka to charge SeaFrost and AGMs. No charging. No batt voltage.
look and see sparks – alternator cable loose. Tighten – all fine. New engine room lights nice!
Hike to North Haven Grocery ($80).
Milk, wine, cookies, scallops, block ice.
Achmed from Jordan from last summer is there again! Gives ride back to pier.
3:00 off to the NE!
Sun out and hot!
Lovely but motoring. And toggles!
4:30 visit the Barred Islands.
Does not feel protected in the SE breeze.
4:45 gently drift to Pickering under genoa at 3.5
5:30 arrive and anchor
6:30 re-anchor closer in, HW on Rocna, Calypso rafted up
LTE!
Dude schoonet anchors; very noisy
Large J-boat; perhaps broker for Calypso.
Scallops, sprouts, challah
mosquitos
Sun Jul 26: Merchant/Harbor Islands, Merchant Row
coooold, gray, still
Bean chamois shirt time!
10:00 still no rain
schooner gone – alone and quiet!
11:30 sun, still no rain
socks help! Ugh.
1:00 off
up and around Pickering and down along Deer island
cool running against breeze
2:30 break off towards FIT to try sailing
plan to tack back to Burnt Coat
3:00 rain and fog; turn back to MR and Round & McGlathery
4:00 potted by John Island, south of Crotch
Cut line with Hook Knife and sail; prop stuck
Pick up another line and HookKnife comes apart
Call Calypso for a tow.
Head to Merchant and pick up a float and toggle while under tow!
Call Landon DeWitt on Isle au Haut who'll be over shortly
6:00 Calypso picks up mooring and we pull up and raft
6:30 $50 and all done!
steak, sprouts, salad
1 bar 4G
kayak campers on Harbor island
Mon Jul 27: Burnt Coat Harbor, Swans Island, via Stonington
cold, gray and fogged in
some people think Maine always this way!
9:30 off for a foggy motor back past Crotch to the DI thorofare.
11:45 Billings Marine fuel ($27.64 – 8.1), water, showers, trash
1:30 off
Jericho Bay foggy, glassy and well potted
2:00 Marshall island red
4:00 HW anchored off the old Boat House and Calypso rafts up
dinghy ashore to hike to lighthouse.
many cheerful but private docks
friendly lobster dock takes pity and we tie up after trying the shore
took iPhone ashore as a GPS; almost needed it
steak
excellent new trails to lighthouse; one accessable!
decided to try York island tomorrow and planned rest of trip(s)
so-so 4G/EDGE
Tue Jul 28: York Island, Isle au Haut
5:00 a parade of polite, slow work boats head out
6:30 flash! boom! Thunderstorm! Nearby lightning, heavy downpour
fog in and out; sun appears at 10:45 and hot!
Dinghy to co-op. talk with lobsterman who then drives us to Tim's store, waits, and drives us back.
Food ($25) in dink, we hike to the lighthouse for the noon tour and tower climb
2:15 off
3:00 t-storm approaching; evaluate coves on Marshall – not too good – keep on
3:45 Spirit ledge makes spooky sounds
4:45 anchored off York island on Calypso's CRQ, HW rafts up
5:00 fog closes in this very empty place – not even a mooring!
7:30 mostly clear and never a storm
lobster from co-op on Calypso
current rolls through the slot
Calypso awake until 1 or so
1 bar 3G
Wed Jul 29:Seal Bay, Vinalhaven, via Isle au Haut 16nm
warm, sunny breezy
10:00 off
11:30 pick up mooring on IauH thorofare and dinghy to Island Store ($95)
denim shirts!
1:15 off
1:45 sail! not the first time here, lovely 4.5 up to 6.0 on main and genoa
suddenly warm breeze off the land passing the false entry
quick shower (from sky, not us) as we approach the anchoring spot
3:45 HW anchors and Calypso rafts up
put dinghy in water
crab from bass harbor via Swan's
good 3G
Thu Jul 30: Rockland Harbor 17nm
still, cool, hazy sun
eider duck families bobbing around
9:45 off
fog rolls in as we head out
strings of floats like dotted lines in the road
green, red, white
pea soup around Calderwood Neck
11:00 FIT and clear!
We encounter JAMBO once more, this time going flat out down the thorofare
12:00 passing monmument in glassy seas
No more toggles?
Genoa goes out and we drift across W Pen Bay at 3.8
1:30 JEM mooring 16
Hit shore: shower, hamilton, hanniford ($90) with help from Joes Cab (still $5!)
a fine dinner at Archer's on the Pier good food, nice view
Fiji Owl in cockpit makes it easy to spot HW in the harbor
Good 3G but flakey cell
Fri Jul 31: Long Cove, Vinalhaven 12nm
BRIGHT! Warm! Run 'beke HOT!
Laundry at JEM and cookies from Atlantic Baking Co.
Merries on Calypso and they head off, south (sadly)
2:00 off east (again)
stop at JEM for fuel ($11.41 – 4.6 gal) and water
amazing reach in mid 6s with genoa in S/SW
3:30 Leadbetter Island
4:15 Dunlay mooring in Long Cove
first picked up one in the middle, but another boat called out that it's usually taken by owner on weekends
but try this one, hidden towards the shore
5:00 it's still
It's Friday! Cheese suffices for dinner.
1 bar 3G
trickle of water over the bar to the inner cove
faint chatter from other boats
Sat Aug 1: Perry Creek, Vinalhaven 7nm
cool, sunny, warming, still
Tidy up quarter berth. Top off 2/3 quart lube oil
10:00 cove is empty!
10:30 row over to small island/rock for pix
11:00 off
11:45 genoa out into the FIT in nice S wind
12:45 on Perry Creek mooring OFF CALL up the creek
BoyToy mooring gone, Foy's houseboat moved
1:45 It's Christmas!
hike the south side trails
occasional cell service, no data, texts sneak through
wine and cheese on island at entrance
more food on Christmas
who needs dinner?
Mainship between us is andy lecomte 38 from the old CW BBS!
Sun Aug 2: Harbor Island, Muscongus Bay 30nm
sun, some clouds, still, cool
dinghy up on deck for return (sigh) south
10:30 off
11:30 out of FIT
12:00 try sailing to Owl's Head for some angle
two outward bound boats rowing, oof!
12:30 nevermind and head for fisherman
MRC ugly with pots and hard to see
2:00 Whitehead
3:30 Pt. Clyde
4:00 pass south of McGee
4:45 all set once again on pink. yellow empty, no sail, two power anchored
exhausted from pot watching in the waves
steak, sprouts
watched seagull on rocks protect his spot
then dive for crab – too bad no long lens in hand!
amazing the wingspread of a gull
Mon Aug 3: Cliff island, Casco Bay 39nm
cool, sunny, hint of wind
7:30 off (a record?) to be ahead of seas and wind
gray, hazy to west
sun trying to east
very sloppy seas and very many lobster pots – like season started in August?
9:15 Pemaquid
calmed and foggier towards the Cuckolds
10:30 Cuckolds
not much to see, fog and haze
2:!4 Dolphin for fuel ($32.76 – 10.1) and trash
3:30 Cliff, still empty
tomorrow how far? weather? Biddeford Pool?
backpackers pantry Fettucini Alfredo
orange moon
lightning north and south
waves on bar
moon off lighthouse (?)
patter of rain
one storm, finally. very rolly
things that go bump in the night, all over boat
turned out to be spray can in head
Tue Aug 4: Wood Island Harbor, Biddeford Pool 20nm
cool, gray, still; storms to south
8:45 off with sprinkles
big storm passes by to south and more sprinkles
rollers on bow; better than waves on beam!
v. foggy at Cape Elizabeth
11:30 Cape E. appears!
sun, too, sort of
1:15 Biddeford Pool
anchor in 15 feet west of mooring field
sunny, warm
rest Nan's back for an afternoon
cooler as storm approaches
BPYC dinghy race in 420s
storms pass by, north and south
steak, sprouts, french bread baked
people walking out bar to Stage Island
wind and current from the pool make varied boat angles in mooring field(s)
good Rocna test!
Wed Aug 5: Onset Harbor via Isles of Shoals and Cape Ann 120nm
sunny, warm, still hot?
9:00 off
10:00 sailing!
10:30 eh, flies!
wind up and down; 'beke on and off
12:30 'beke? RPMs?
1:30 change yukky primary filter
wind down (or at least inshore)
nice, fluffy clouds, no anvils
3:00 'beke quits
3:30 change gukky secondary filter and clean pump screen
approaching IofS from the east
4:00 'beke quits but can sail
So… go to mooring booked at Annisquam YC?
Towed to Gloucester? Stuck on North Shore?
No more tows! Sail to the Canal?
Wind now looks good for the night, W/NW. Should be moon.
Could arrive at canal at dawn to catch the current
Discuss. Never done an overnight just the two of us. Conditions look good. Let's do it!
Call TowBoat Cape Cod to arrange tow through canal at o'dark hundred.
Past Thacher, Cape Ann by 7:00
Arrive canal 4:30; take sails down and under tow 5:00
6:45 on mooring! (Tow bill $656.50)
Sleep until Viking's first cruise at 10:00
What Worked…
Rocna 33# continues to impress with holding power and ability to remain set with wind changes
Garmin GPSmap 478 still keeping us off the rocks
Standard Horizon GX2200 VHF radio with RAM mic, feeding AIS to the HDS-7m
iWeather.com NOAA weather radar in iPhone very helpful for storms
Maxwell windlass worked flawlessly this summer – good for my back
Not worked
at&t cell and data coverage remain disappointing