Once again, new and old harbors and new and old friends. Here, the always-dramatic Isles of Shoals after our second day of being chased by storms boiling off the land.
Pickering Island, Buckle Harbor, Isle au Haut, Winter Harbor, Long Cove.
Overview…
This year we decided to keep to short hops, once in Maine that is, and not try for distant harbors. We'd sail where the wind would allow and have time to relax and go ashore. There was little wind in Penobscot Bay so that destinations ended up based on "where next?" and not "where can?"
The southern part of the cruise was dominated by wind and thunderstorms. The Pen Bay part had fog and light winds. Be nice to add a few days so the "delivery" stretches could have an extra day and of course additional days in Pen Bay.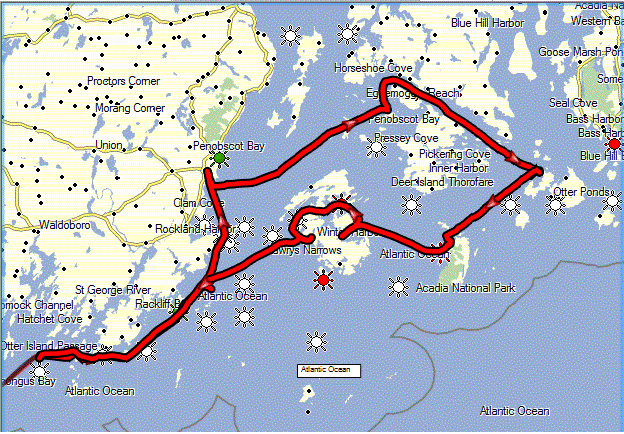 Best (only!) new anchorage: Pickering Island
Best new storm hole: Anniswquam River, Cape Ann
Best new marina: Rockport Marine
Best quote (not the first time): "We were lucky."
Best emergency medical facility: Star Island First Aid
Best new food: bake at home breads
Sat 26 Duxbury, Clark's Island
4:00 off mooring to meet Calypso in Hog Island Channel
4:30 surprise! RR bridge down; circle to see the Charles W. Morgan
5:30 transit done and a 15kt SW
genoa out and a nice reach little sun but sparkling seas
7:00 MaryAnn rocks, some sun
7:30 motorsail (how come not catch up w/ Calypso?)
cross green-charted area of Brown's Bank west off wreck symbol
8:45 pick up mooring north of Clark's Island
cold chix – that's why we cook it beforehand!
Calypso back from Plymouth crew drop-off and takes another mooring
decent LTE
Sun 27 Cape Ann, Annisquam River
breeze, sunny, warm
dinghy up and rolled on foredeck
9:00 off
10:00 Gurnet
slow, DDW
storms already brewing on land
genoa out in 18kts S, doing 5+
simpler than the main if need to drop
course towards shore in case need to duck into Scituate or Cohasset
12:15 zip dodger side curtains on
12:30 rain
2:30 motoring to Gloucester to short the day
storm #2 passes ahead, leaving us with rain
4:30 Eastern Point
5:00 RR bridge
5:30 north end of Annisquam
Both boats pick up excellent new moorings in the current
Launch service shuttles Paul over for dinner
AYC moorings $50 (x2)
steak
decent LTE
Mon 28 Isles of Shoals, Gosport Harbor
fog, lifting to dreary morn
Then rain; TS to come? Hold on
10:00 boomers
current trumps wind, so wet in cockpit and cabin
10:30 sun!
12:30 fluky wind
1:00 17+ SE, doing 6+ on genoa
rockin rollin surfin to IofS
3:00 HW picks up mooring, Calypso rafts up
4:00 clean!, diesel-heated sunshower
5:00 beautiful
6:00 something big coming but passes; lightening contunues to the NE
so windy can't hear the ever-present birds
Tue 29 Casco Bay, Cliff Island
sunny, breezy, warming
8:30 call Star Island First Aid for Nan's nausea
rescue boat brings PA and meds
10:15 off mooring, solo
shake reef out full main to sail, but…
11:30 power up with 2.7 kts
sunny and cloudless – usualy for this stretch headed up
1:00 boring, dreary
1:30 bye-bye wind
7:15 HW picks up mooring, Calypso rafts up after launching dighy to pick up Sally ashore
cold chix
good 4G
Wed 30 Muscongus Bay, Harbor Island
cool, drizzly, light wind, cloudy, rainy
10:30 off
11:00 stop first at Dolphin Marina
fuel 10.6 $47
water 1/2 tank
trash!
12:00 under way 10 kts on nose and fog
2:00 Fuller Rock and wind dies
3:45 Cuckolds and Brrrrr!
Can hardly see Ram I light, Thrumcap and Pemaquid buoy
Thick fog heading up Muscongus Bay: wisps pass through cockpit and drops fall from boom
6:30 fog clears as approach Harbor minefield
several boars anchored but have choice of the two moorings
HW picks up red mooring after passing on the yellow, Calypso arrives and rafts up
cold chix
weak EDGE service (in 2014!)
Thu 31 Muscle Ridge Channel, High & Dix Islands
cold, foggy, still
MRC turning foul at 1:00 drives plans
10:00 off and take passage between Twobush and McGee so can actually see land!
11:30 Mosquito I.
amazing how few the pots in the fog
1:00 Whitehead
1:30 High & Dix
Caluypso anchors (CQR) and HW rafts up
picked up a line while circling but both cutter blades work as intended
Freed by the Shaft Shark and then removed the rest with the Hookknife
2:30 fog gone and a hot 77!
by end of afternoon two boats leave and sooo quiet; just one other boat by Dix
good 3G
diesel sunshower and shave!
steak
Fri 1 Penobscot Bay, Pickering Island via Rockport
beautiful and still
dinghy wet and pumped to attention
9:30 off with nice current
11:30 Rockport
fuel and water at organic docks of RMI
fuel 7.7 $28
water 1/2 tank
ice 1 block $2.25
trash!
pick up loaner moorings and loaner jeep to drive down to Rock-land Thx Tom!
Hamilton's, Atlantic Baking and hannaford $90
4:00 off into West Pen Bay
sail south of Mark I and head up, motoring, around the Spruces to Pickering
7:30 Calypso anchors (CQR) and we raft
tendrils of fog
scallops, corn, fresh rolls
LTE!
nice quiet anchorage with one other boat
Sat 2 Swan's Island, Buckle Harbor
cool, lt fog, haze; showers forecast and a reality
Merries short hike after rain
oil 1/2 qt down. coolant res. fine
11:45 off into NW Eggemoggin Reach
dreams of sail power but for naught
wind 11 kt; raise main; once done wind is 5 kts
sail for a while at 2 kts but give up
many pots at the SE end, plus a cold SW wind in Jerico Bay
3:45 HW anchor (Delta) and Calypso rafts up
Merries go ashore yet again
steak
decent LTE
forecabin an abbatoir of mosquito bodies
Sun 3 Isle au Haut Thorofare
warm, clear sunny
two other boats chatty noise?
10:30 off into lt SW of course
Pots in Jericho Bay, of course
then glassy
12:30 run into banned floating pot warp by Pell and Wheat
1:00 anchored and freed with boathook and hookknife PITA!
line was seen by Calypso but no time to warn
2:00 Isle au Haut Thorofare
4G lasts lonog enough to talk with store with mooring (and not) advice
spot guest mooring on north side, Calypso takes and HW rafts up
cell works on pier and by store to leave message for diver with flier on pier
long walk to Black Dinah Chocolatiere and even longer to Robinson's Pt. lighthouse
young diver waiting on pier and $40 clears off remaining warp from prop
steak
mosquitos
rain
Guest mooring $25 each
Zippo cell
Mon 4 Vinalhaven Island, Winter Harbor
cool, dry, clouding, still
10:45 off to a hazy Vinalhaven.
no sailing boats
12:30 entrance to Winter Harbor and Sseal Bay
1:00 in the "pool" of Winter Habor at "creek" to Seal Bay
at the west end of Penobscot Island
Merries go ashore, dge paddles around for pix
add 1/2 l oil
4:30 Paul & Lise Dunn motor through said creek in time for cheese and tales of potted props
steak
occasional cell and/or data "off-network"
Tue 5 Vinalhaven Island, Long Cove via North Haven
can this really be the end? Stuck inside of Vinalhaven with the heading home blues again
6:15 lobster boat Hey Babe rocks and rolls
10:45 depth reading 2.7 feet! HW (4′) slides forwards and off the raft. Calypso (5′) remains in place.
11:15 off to North Haven with Sally.
12:45 on a JOB mooring Need pay? shrug.
rides to and from North Haven Grocery by Ahmed.
Store just stocked and empty of customers $80
trash!
Calypso off bottom at about 2:!5
4:00 depart J.O. Brown's
No block ice. The company that bought O'Hara's isn't shipping any
5:30 Long Cove after Dogfish Island and Ledebetter Narrows
Calypso picks up a nice rental mooring and HW rafts up
Guest mooring $20 each
lobster and corn
poor to no cell
some large boats in here!
nice fog in the evening
Wed 6 Muscongus Bay, Harbor Island
6:00 rain, thunderstorm
some fog, humid, sun peeking out
gray, still
9:30 off , no brighter
11:30 MRC, still gray
many more pots than were there in the fog last week
12:15 Whitehead and fog
1:15 Mosquito Island and sun
bit of motorsailing
3:00 Harbor Island, Calypso picks up the yellow mooring as storm approaches, HW rafts
downpour
Merries ashore
lousy cell as usual
scallops
mosquitos
Thu 7 Casco Bay, Cliff Island
clear, cool, sunny and a breeze?
dinghy up
9:15 off
main up at the mouth, genoa at Devil's Elbow
10:00 c/b down, motor off!
sound of surf on Thrumcap and a pot sliding down the port side
1:00 add 'beke and radar
1:15 wind all gone
storms now visible down Portland-way
off Small Pt., 'beke dies but restarts
slow motoring across now to Harpswell Neck
slow service at Dolphin; staff gone home for storm
fuel 8.8 $39
water 1 tank
trash!
ice 1 block $4!
cabo rico from Duxbury
Calypso way ahead picks up mooring at Cliff we raft
BP Santa Fe chicken
good cell 3G/LTE
swap primary filter; a little grungy make big mess (need practice!)
Fri 8 Isles of Shoals, Gosport Harbor
cool, crisp, clear, gusty
8:15 sally put ashore
9:15 off, main up but motorsailing; will Cape Elizabeth ever pass?
#1 bell a SW
12:30 becoming glassy – sigh
2:30 moritsailing slatting main; drop
gentle SW on nose
the fly coast
3:30 dark clouds on horizon and weather radar
soon all around. will pass to north? eventually, no. downpour
Hunter heading into York right where storm is – huh?
Calypso caught by wind reversal while lowering main
6:15 HW pick up mooring and raft
birds, suft on seawall and still, the storm having passed
steak, boule
Sat 9 Duxbury Harbor, Clark's Island
crisp. sunny, clear
8:45 off NW @6?
basically no wind – better than a honking SW?
12:00 flat ground
12:30 clear of Cape Ann
heard a call to CG on 16 and 22 from Margery, CG to call TowBoatUS
later saw a sailboat under tow towards Gloucester
Bunker Hill guarding the floating hawser
Calypso slipped past a little more inshore and ignoring ch 16
HW forced to go around 3/4 mile (easy for you to say) per CFR bla-blah
note the BH not seen on AIS
large twin-sailed ketch way out
Motor onwards
sun sparkling off water on sails and stainless
6:30 Gurnet with tide getting dark and cold; no cutting of marks
7:00 Bug Lite!
7:30 HW picks up mooring and Calypso rafts up at Clark's
BP chix vindaloo
good LTE
quiet last evening
Sun 10 Onset Harbor, Mooring #1191
sunny, clear still
9:15 off in lt NW
ugly current
10:00 cut Brown's Bank least depth seen 28 and later 18
genoa out, but nevermind
12:30 CCCanal NE
big chop with the NE wind
often did 4.7 to 10.1 – 11.7 seen
1:30 on mooring! #1191
What Worked…
Bake-at-home breads (and the oven works!)
C-Level Step-Up Rigid Topsides step
Hook-knife and Shaft-shark big helps in Maine
Garmin GPSmap 478 still keeping us off the rocks
Standard HS280X handheld VHF holds charge all day and charges intelligently
LL Bean Gore-tex rain suits when foulies are just too much
Diesel-powered sun showers when the sun won't do it alone
Not worked
at&t cell and data coverage remains disappointing at best