Sailing, steaks, scallops, and a parade, Cuttyhunk was full but not overcrowded. 
Friday we had a light SE breeze but a full SW current in the Cape Cod Canal. Leaving at 12:30 we perhaps set a record half hour transit to the end of the spit, Over mostly glassy seas, we motored the same direction we'd exitied the canal; it would carry us right to the entrance of Cuttyhunk Pond. The wind slowly clocked south and for a while we got in some pleasant saililng. Then as it went to the SW, we motored again so not to arrive too late to a potentially crowded anchorage. There were lots of sticks visible as we entered the harbor at 5:00, but in the pond there was lots of swing room in the back (or north). We dropped the new #35 Rocna and it grabbed nicely.

The Merries in Calypso arrived around 8:00 after a long trip down the Sakonnet from Shaw's Boatyard in Deighton and rafted up.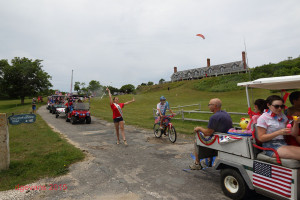 And a parade! We sort of walked into it as wandered around the island.