A Florida Sail with Dave Page on Soteria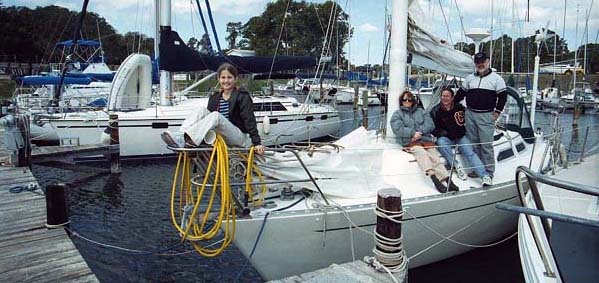 The crew: Charis, Nan, Laurie and Dave P. (and Dave E. behind the camera) - note the light clothing, typical of Florida in the winter - this is why we Northeners come down?
Nan at the Helm
On Buzzards Bay, September, 1999.
The Sand Hole
Lloyd Point, Long Island Sound on the "delivery" trip home to Onset from Perth Amboy, New Jersey.


Onset Mooring
Jabberwocky on mooring 1191 in Onset
Sunset at Cuttyhunk Island
Moored in the outer harbor,
on a Suturday night in 1998
Chasing Jim Tomlin
Early in the summer of 1999,
comparing sail trim against Alison,
the last F-28 built.
On the Travelift
Barden's Boatyard, Marion, Massachusetts,
fall 1998
Blue Parrot in the Fog
Our previous Gary Mull boat, a Ranger 23,
now down Maine.
Photographs copyright David G. Evans